Brit Care Cat Grain-Free HAIRCARE HEALTHY AND SHINY COAT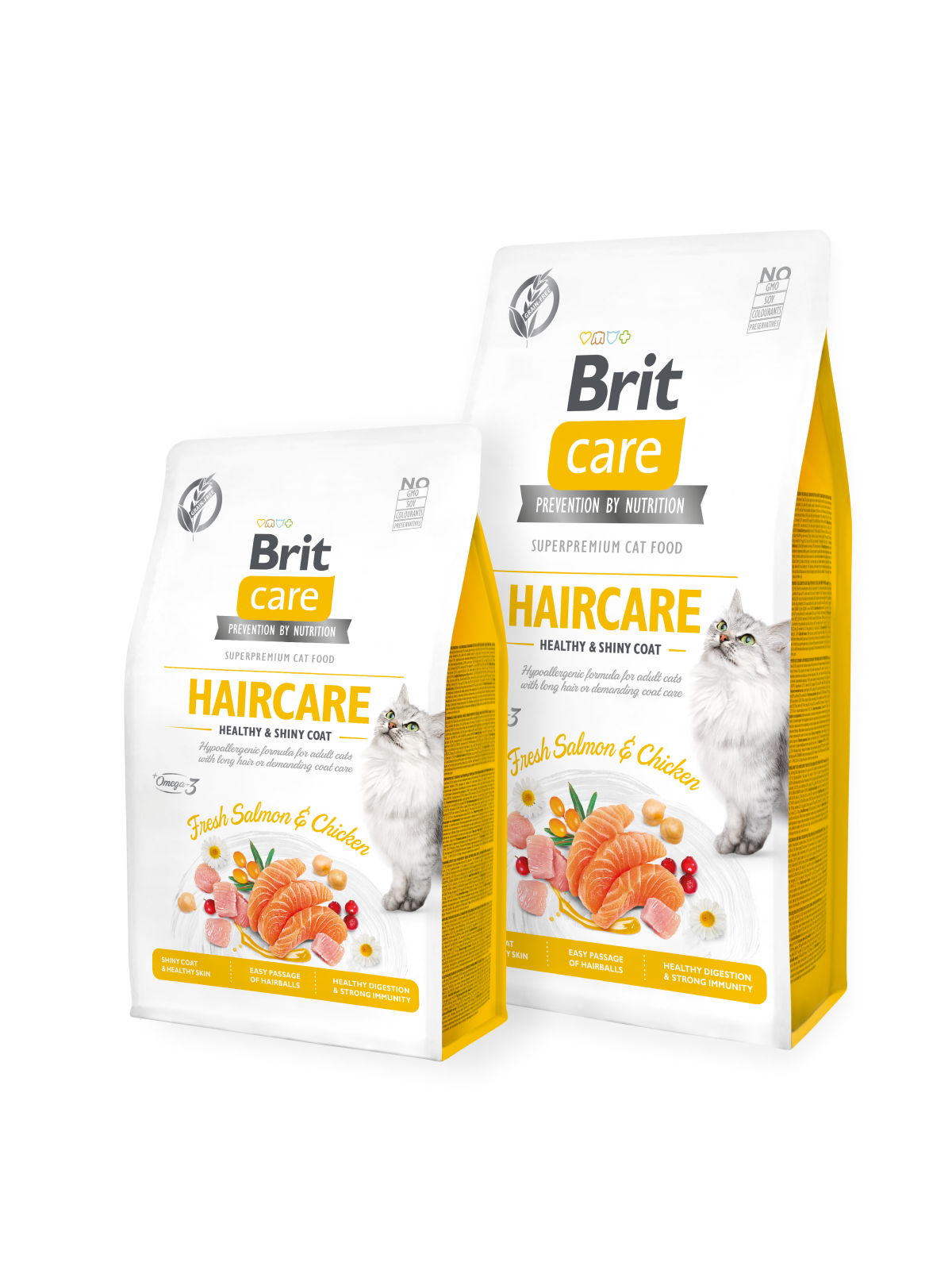 Complete food for adult cats with demanding coat care.
A hypoallergenic grain-free formula rich in fibre that facilitates the passage of hairballs. Protein from high-quality meat helps keep muscles lean and strong. In combination with taurine, an essential nutrient for cats, it supports good vision and heart health.
FRESH SALMON, CHICKEN, LINSEED – natural sources of omega-3 and omega-6 fatty acids that help maintain a shiny coat and healthy skin.
FIBRE – ingredients rich in fibre facilitate the passage of hairballs. Crude fibre provides a feeling of satiety, which results in reduced food intake and helps regulate body weight.
PROBIOTICS and PREBIOTICS boost the immune system and promote healthy digestion.
Grain free – NO colorants – NO preservatives – NO GMO – NO soy.
Complete food for adult cats with demanding coat care.
Composition: fresh salmon meat (26%), dehydrated chicken (26%), yellow peas (14%), chickpeas (8%), poultry fat (preserved with tocopherols, 6%), dried apples (6%), salmon oil (3%), psyllium husk and seeds (2%), linseed (2%), hydrolyzed chicken liver (2%), brewer´s yeast (2%), dried algae (1.5%, Schizochytrium limacinum), dried chamomile (0.5%), minerals, dried sea buckthorn (0.3%), dried cranberries (0.2%), fructo-oligosaccharides (0.015%), mannan-oligosaccharides (0.015%), Mojave yucca (0.008%), Lactobacillus acidophilus HA – 122 inactivated (15x109 cells/kg).
Analytical ingredients: crude protein 31.0%, crude fat 16.0%, crude fibre 4.0%, crude ash 8.5%, moisture 10.0%, Omega-3 1.2%, Omega-6 2%, calcium 1.1%, phosphorus 0.9%, sodium 0.9%, magnesium 0.1%.
Nutritional composition: vitamin A (3a672a) 20 000 I.U., vitamin D3 (E671) 800 I.U., vitamin E (3a700) 600 mg, vitamin C (3a312) 300 mg, taurine (3a370) 2 500 mg, L-carnitine (3a910) 50 mg, choline chloride (3a890) 2 500 mg, biotin (3a880) 2 mg, vitamin B1 (3a821) 10 mg, vitamin B2 12 mg, niacinamide (3a315) 50 mg, calcium-D-pantothenate (3a841) 40 mg, vitamin B6 (3a831) 10 mg, folic acid (3a316) 2 mg, vitamin B12 0.04 mg, zinc (3b606) 120 mg, iron (3b106) 45 mg, manganese (3b504) 55 mg, potassium iodide (3b201) 4 mg, copper (3b406) 10 mg, selenium (3b8.10) 0.2 mg, L-methionine (3c305) 2 000 mg. Contains EU approved natural antioxidants: tocopherol extracts from vegetable oil (1b306), ascorbyl palmitate (1b304) & rosemary extract.
Metabolizable energy: 3,720 kcal/kg
---